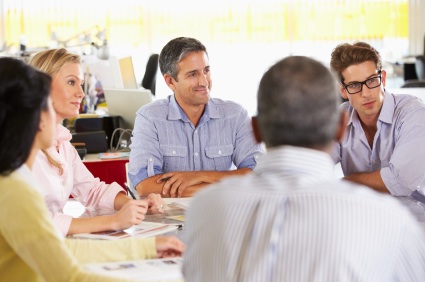 TAB EOOD is a management consulting company. We specialize in innovative management practices (NEO-MANAGEMENT®) which lead to high engagement and deep intrinsic motivation of employees and very high customer satisfaction (delight). You can read more about NEO-MANAGEMENT® further down this page.
NEO-MANAGEMENT® methods are better suited for today's fast-paced, hyper-competitive business environments, with totally connected, highly-demanding customers.
We firmly believe that it is possible for people to be happy at work and highly productive at the same time, giving their best to their companies. This is becoming a reality in a growing number of companies around the world.
We are experienced in building such highly productive teams and in advising companies on the changes they need to make in order to achieve extraordinary results with their teams of ordinary people.
We keep up to date with the latest developments in our area and offer modern solutions, including the use of Information and Communication Technologies (ICT).
NEO-MANAGEMENT® is a general name we have chosen to include new management practices, which are known by many different names: Radical Management, Management 3.0, Agile/Lean Management, Neuro-Leadership, Behavioral Management, Boundary Management, Design Thinking, etc. They focus on the holistic management of the organization, where all parts work in an adaptive, agile, synergistic manner in a connected social environment, maximizing the creation of value for all the stakeholders - investors, employees, customers, partners, suppliers and society. They use new people management, marketing, customer service and sales methods, which take into account human nature, the way our human brains work and the natural ways of people interaction. The result is happy employees and delighted customers. The financial returns from such companies are truly amazing - 2 to 4 times higher than those of companies managed by standard methods (100 to 300% more!).
There are already many companies in the world, based on different continents, which are managed with one or another form of NEO-MANAGEMENT®, these are often called Firms of Endearment. Examples are Zapos, Semco, Valve, Netflix, Nucor, Quadracci, HCL, Virgin, Total Attorneys, Southwest Airlines, Commerce Bank, NCR, Whole Foods, Sabre Holding and many others. Their results are not only higher than average , but also they significantly exceed the results of the companies in the popular Good to Great list of companies, introduced in the book of James Collins with the same name. We have shown below a comparison between the financial results of these two types of companies for the period 2002-2012. The average results of 10 "Firms of Endearment " companies (FOE) are on the left side and the results of Good to Great companies (GTG) are on the right side. The bases for comparison in both cases are the average results of S&P 500 companies.